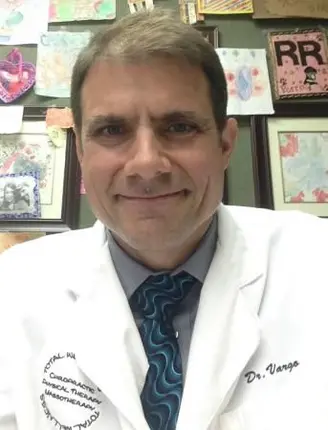 Dr. Vargo knew he wanted to be a Chiropractor ever since the 6th grade! Growing up he saw how many medications his Grandmother was taking and thought there had to be a better solution for her. At the same time, his best friend's dad was the only doctor in his small home town of Quaker City, Ohio. People came for miles to be seen by this doctor. He wasn't just any doctor. He was a doctor of Chiropractic and he left his impression on a 6th graders heart to become a Chiropractor. Dr. Vargo went to Ohio University Belmont Campus for his pre-Chiropractic courses then straight into Palmer College of Chiropractic, the oldest Chiropractic College in the world.
After Graduating in December 1989, Dr.Vargo successfully passed his Ohio state boards and began practicing with another Chiropractor in Akron, Ohio. After 6 years in Akron, Dr. Vargo and his wife Marcie then felt it was time to start their own clinic. Vargo Chiropractic was officially open July 26, 1996 in Canton, Ohio and still resides in the same location and building. After 2 years of practicing as a Chiropractor in Canton, Dr. Vargo had a desire to learn more about Physical Rehabilitation of soft tissue and underwent a 3 year post graduate program to become board certified in rehabilitation. Presently, he is the only Chiropractor in Canton who holds this board certification. Marcie is back at the office full-time as office manager and head of our insurance department after 21 years of working from home keeping the books and managing the payroll while raising their children. We would love for you to come in and meet Dr. Vargo in our Canton Ohio Chiropractic office.

Dr. Vargo and Marcie have been given three beautiful girls, Reigan, Baylee, and Madison. Ron & Marcie actively attend Identity Church in Uniontown, Ohio. Dr. Vargo would like all to know that his clinic is the result of Christ's love, guidance, and blessings.
Education:
Ohio University Belmont Campus
Palmer College of Chiropractic
3 year post graduate board certification in rehabilitation
Eagle Scout
Licensure:
Doctorate of Chiropractic
Diplomat American Chiropractic Rehabilitation Board
Memberships & Associations:
Christian Chiropractic Association
American Chiropractic Association
Ohio State Chiropractic Association
American Chiropractic College of Rehabilitation Science
Past President of the North Central Academy of Chiropractic
Past Ohio State Chiropractic Association Insurance Committee Chairman
Past Ohio State Chiropractic Association Opioid Task Force Officer
2015 Ohio State Chiropractic Association Chiropractor of the Year